Hap Palmer is an innovator
in the use of music and movement
to teach skills and encourage
the use of imagination.
His recordings and videos have
received numerous honors
including the
Parent's Choice Award
and the National Parenting
Publications Award.

Order from CD Baby, or Amazon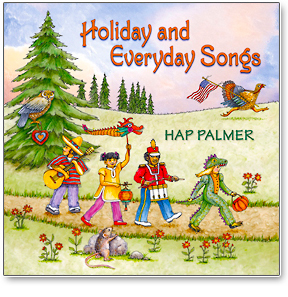 Holiday and Everyday Songs

This is a collection of songs
about holidays throughout the year
combined with songs about
special things that happen
every day.
.

...
Read more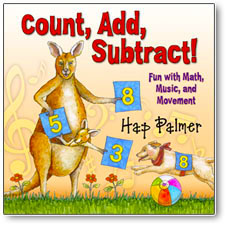 Count, Add, Subtract!

Fun with Math. Music, and
Movement

A colorful variety of musical styles
make basic addition and subtraction
facts easy to learn. The songs strike a balance between problem solving and memorization with an emphasis on developing mathematical thinking
skills.

...
Read more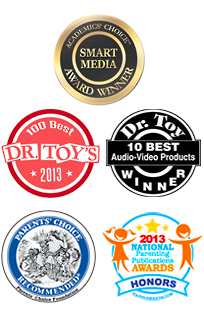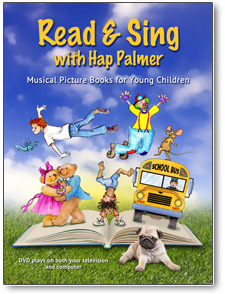 Read & Sing
with Hap Palmer

Musical Picture Books for
Young Children

Twelve Hap Palmer favorites are presented in a series of musical
picture books that combine song
lyrics with high quality audio
recordings, imaginative illustrations,
and colorful photographs, all
designed to motivate children to
read and sing....Read more



'Pick of the Day'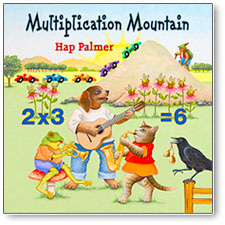 Multiplication Mountain


Children learn the multiplication tables
in a fun and easy way. They start at the
bottom of the mountain and memorize
the easiest tables first. After they've
learned the 2s, 10s, 5s, and 11s, they
move up to the next level and keep
climbing until they finally reach the
sun with the 12s. Each table has its
own catchy song...Read more

Multiplication Mountain
a multi-award winner!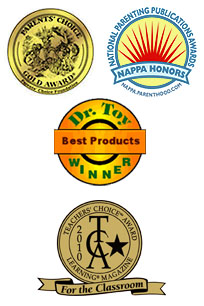 Soothing Lullabies for the Whole Family

Musical Picture Books for Young Children

Baby Songs Award Winning, Live Action Music Videos for Toddlers

Downloadable, Printable Pages in PDF Format
This songbook contains lead sheets with melody, chords and lyrics
for all the songs from the award winning CD Multiplication Mountain.
In addition, the book includes a complete teaching guide
with lyric sheets, actions, and activities for lesson extensions.
All lyric sheets and the complete teaching guide are included
in one downloadable, printable PDF document.


Get 1¢ shipping when you order 3 CDs or more!
Available on orders of 3 CDs /DVDs or more, placed through CD Baby
MP3s
Hap Palmer MP3 downloads available at CD Baby and iTunes.

Lead Sheets with Chords, Lyrics, and Activities
Downloadable music lead sheets are available from Songs for Teaching
Each title includes melody notes, guitar chords, lyrics, and activities.

Facebook
Check out the Hap Palmer Music for Children on Facebook.

Concerts and Workshops

March 5, 2016
Saturday 8:30 am and 10:15 am
Southern California Kindergarten Conference
Pasadena Convention Center
Count, Add, Subtract! Fun with Math, Music, and Movement
300 East Green Street
Pasadena, CA 91101​
(661) 297-6900
August 3, 2016
Wednesday 8 am – 9:30 am
Presbyterian Weekday Ministries Conference
Marriott Westchase Hotel
2900 Briarpark Drive,
Houston, Texas 77042


Past Concerts and Workshops




Free for your enjoyment. Lyrics for learning the words to Hap Palmer's fun songs, and activities to help children develop motor and musical skills.

Click Here for Lyrics and Activities
Instructions for making teaching aids that can
be used with Hap Palmer's music. Learn how
to make Scarves, Hoops, Rhythm Instruments,
and Bean Bags. Find out some helpful hints,
and where to purchase the materials...

Click Here for Making Teaching Aids