Can Cockatoos Count By Twos?



Songs for Learning Through Music and Movement

Young children learn best by doing. These songs invite active involvement in developing vocabulary and mastering a wealth of skills and concepts. The joy of moving generates enthusiasm to learn about numbers, shapes, letters, phonics, creative problem solving and cultural diversity.

A complete guide is included which contains song lyrics and suggested ways of presenting activities to the students along with variations and follow up activities to make learning stimulating, challenging and fun!


Product Number: HP109E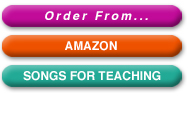 AWARDS

• National Parenting Publications Award
• Parents' Choice Gold Award
• DiscoverySchool.com Four Star Rating
• Early Childhood News Directors' Choice Award
• National Parenting Publications Awards (NAPPA)
• Parents' Guide To Children's Media Award

EDITORIAL REVIEWS

Parent's Choice
Music educator Hap Palmer scores an A-plus for another super collection of songs filled with imaginative lessons in rhythm, rhyme, and telling time ("Jolly Clock"), multiplying by two's (the title song), mixing colors ("Colors In Motion"), and opposites ("What's Bigger Than A Bear?"). In "Betty Beep," a little girl tries to get to sleep by counting sheep at bedtime but finds herself wakefully counting a puppy's barks, a cat's meows, a baby's cries, and more night-time sounds; listeners can add up the sounds as they listen. "Months on the Move" identifies the months of the year with playful alliteration: "January jiggles like a juggler in the cold"…."December does a dainty dance…"Lyrics are included and so are a wealth of activity instructions for teachers and parents. -- Lynne Heffley

Parent's Guide
Can Cockatoos Count By Twos? is an excellent combination of songs that inspire singing, playing, moving, and creativity! Children experience problem solving, develop language proficiency, and refine motor skills as they respond to this music.

Hap Palmer is a true innovator in the use of music, language, and movement for young children. This recording will be a favorite for children, parents, and early childhood teachers.

Amazon.com
Hap Palmer goes about educating children through almost entirely organic means -- he writes catchy tunes that involve a variety of games, stories, and activities that involve kids and parents both during the music and beyond it. Can Cockatoos Count By Twos? cites a handful of high objectives in its liner notes: For kids to "enhance listening and comprehension skills"; to "teach basic academic concepts"; to "increase vocabulary and stimulate language proficiency"; to "develop fitness and basic motor skills"; to "foster the recognition of rhythm and melody"; and to "encourage problem solving and creativity." A tall set of ideals, indeed, but Palmer lives up to each goal, aiming these creative songs at the twin targets of entertainment and edification. Each song's lyrics has explanations of the objectives, ideal settings for playing along, and a description of the ideal activity. Palmer has a supple enough voice that he melds in with the mostly acoustic instruments on Cockatoos, but he avoids becoming sonic wallpaper and provides kids with understandable, fun narratives. -- Andrew Bartlett