Academics' Choice Awards
2016 Smart Media Award

Holiday and Everyday Songs
Hap Palmer, CD HP120

What a fun, diverse, and well recorded album! The first song, "We have a Dream," gets right to the heart of social justice with a tinge of a gospel sound. "Cinco de Mayo" is a great tune to inform us about Mexican culture. The song is catchy and has a nice groove and contagious hook. We really liked Xin Nian Kwai Le for not only its uniqueness but for simply recognizing and including Chinese New Year in the collection. This cd is great for teaching empathy and cultural awareness to elementary aged kids!

We learned about many different holidays and cultures. In particular, the songs sparked conversation around the similarities and differences in languages and sounds. We loved the overall diversity of the cd.

We loved this cd! Witches' Brew was by far our favorite. I remember singing this one when I was a young lad!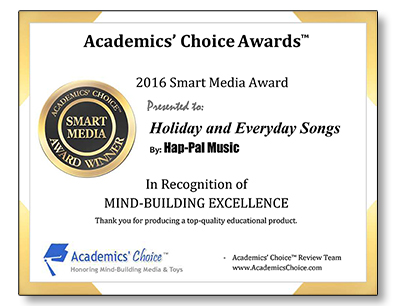 Back to Awards