Academics' Choice Award

2018

Can A Cherry Pie Wave Goodbye?


New Updated Version!


Songs for Learning Through Music and Movement
Hap Palmer, Hap-Pal Music CD HP1103E
Ages 3-7
I loved the fact that a free teaching guide accompanies each song. For example, in Can A Cherry Pie Wave Goodbye? the activity instructs you to nod or shake your head for yes and no answers. This incorporates movement, which engages the listener, and also helps children distinguish between fantasy and reality. The follow up questions ask things such as "Which imaginary situation did you find funniest?" Enhancement activities ask listeners to draw a picture that shows what the situation would look like, and even challenges kids to think of other rhymes that describe both imaginary and real situations.
I liked the variety of songs. We played this CD during our morning routine. There are a lot of academic songs included. I really liked the Weekly Rap, which helps children memorize the days of the week. I like that there is a free teaching guide online too!
The songs develop listening skills, color, letter, and number recognition, teach the days of the week, opposites, occupations, body parts, directional prepositions and verbs, sight words, basic motor skills, fantasy vs. reality, and much more.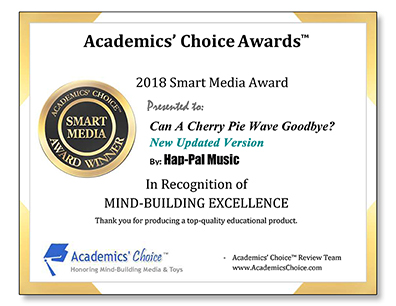 Back to Awards