Sally The Swinging Snake


These songs invite children to move. The song lyrics are built around words that describe movement. Words such as slow, fast, straight, curved, tight, loose, bend, stretch, over, under and around are a fundamental part of a child's general vocabulary. Active learning is an effective way to teach this vocabulary.

In addition to enhancing the understanding of language, active participation in the learning of a movement vocabulary also provides a foundation of basic movement skills which are common to all forms of physical activity including recreational games, sports and dance.

This recording is based on Hap's MA Thesis "Songs to Enhance the Movement Vocabulary of Young Children."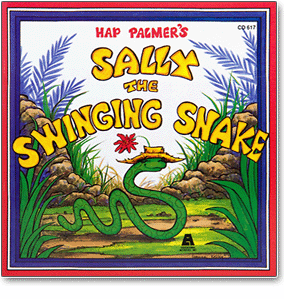 1. Sally The Swinging Snake
2. Something Special
3. Wiggy Wiggy Wiggles
4. Dancing With A Stick
5. Rubber Band Man
6. Up And Down A Mountain
7. Everything Has A Shape
8. Muddy Water Puddle
9. Watch Me
10. When The Bell Rings
11. On The Count Of Five
12. Percival The Parrot
13. Ride And Swing