Sheet Music for Hap Palmer Children's Songs
Words and Music by Hap Palmer. ©Hap-Pal Music, Inc.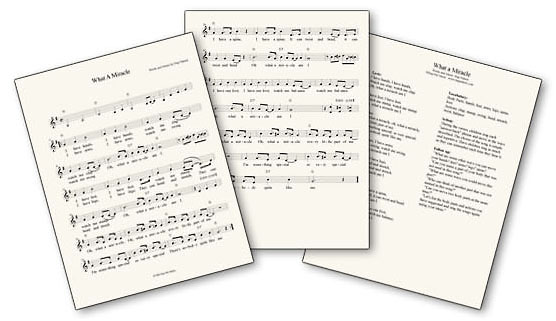 In response to your many requests for sheet music, Hap Palmer has produced downloadable printed music lead sheets with melody line, chord symbols and lyrics. These include selections from Hap Palmer's educational songs for children CDs and also songs from the popular Baby Songs DVD series. This sheet music is available from the website Songs for Teaching.

Each title includes melody notes, lyrics and chord symbols. Most of the titles also include actions or activities for lesson extensions.


The Following Titles are Available for Downloading:
A
All Night, All Day
Alphabet In Motion
The Angel Band
Animal Quiz
A Tree Fell Down
B
Baby Chickie
The Baby's Carol
Backwards Land
Bean Bag Alphabet Rag
Be My Friend
The Bean Bag
Big Heavy Box
Bop 'Til We Drop
C
Can Cockatoos Count By Twos?
Celebrate The Day Of Your Birth
Chanukah, Oh Chanukah
Choose An Instrument
Cinco de Mayo
Clown Song
Colors
Colors In Motion
The Compost Bin
Count Up, Count Down
Cover Your Mouth
D – E
Daddy Be A Horsie
Don't Wash My Blanket
The Eagle Song
The Elephant
F
Feelings
Five Little Monkeys
Finger Foods
Flick A Fly
Friends
G –H
Gettin' Up Time
Goodbye, My Friends
Growing
The Hammer Song
I
I'm A Pretzel
It's Time To Go
Itsy Bitsy Spider
J – K – L
Jingle Bells/Jingle Song
Kris Kringle's Jingle Bell Band
Let's All Clap Our Hands Together
Little Ants
M
Magic Scarf
Marching Around The Alphabet
The Merry Hula
The Mice Go Marching
Multiplication Mountain Songbook (All Songs)
My Baby
My Mommy Comes Back

N – O
Nature's Sweet Endless Song
One Little Sound
P
Pack Up The Sleigh
Parade Of Colors
Percival The Parrot
Pocket Full Of Bs
Put Your Hands Up In The Air
R
Raggedy Rag Doll Friend
Rhyme Time Band
Rock And Roll Freeze Dance
'Round The World With Ways To Say Hello
S
Sally The Swinging Snake
Sammy (I'm Glad I'm Me)
Scamper
Shake Something
The Shapes That Surround You
Slow And Fast
So Big
So Happy You're Here
Song About Slow And Fast
Spinning On The Same Ball
Stepping Out On The Town
Stuff It In The Closet
T
Tap Your Sticks
Teddy Bear Playtime
Ten Monkeys In A Tree
They Go Together
Things I'm Thankful For
Thirty Second Challenge
Today I Took My Diapers Off
Touch
A Tree Fell Down
Turn Around
V – W
Valentine's Song
Walter The Waltzing Worm
We Have Have A Dream
We Are All Alike
What A Miracle
What A World We'd Have
What Are You Wearing?
What Is Your Name?
Wiggy Wiggles Freeze Dance
Witches' Brew (in key of E and F)
(Won't You) Be My Friend?
Woodpecker
Lead Sheets with Chords, Lyrics, and Activities
Downloadable music lead sheets are available from Songs for Teaching
Each title includes melody notes, guitar chords, lyrics, and activities.

If you do not find the song you are looking for please contact us. Our goal is to provide a complete collection of our most requested sheet music.

All songs published by Hap-Pal Music. ©Hap-Pal Music all rights reserved. No part of these lyrics or activities may be reproduced or transmitted in any form or by any means without permission from the publisher.


Back to Top