Can A Cherry Pie Wave Goodbye?



Songs for Learning Through Music and Movement
New Updated Version!

Young children learn best by "doing." These songs invite active involvement in mastering a wealth of knowledge and skills. Subjects include colors, numbers, letters, phonics, days of the week, animals, opposites, occupations, sight words, basic motor skills and more. Music, movement and social interaction come together in a joyous celebration of learning! This updated version includes additional songs and improvements to existing songs.
Ages 3-7


Product Number: CD HP1103E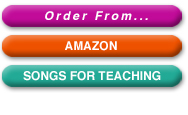 AWARDS

2018 Parents' Choice Gold Award

2018 Academics' Choice Award

EDITORIAL REVIEWS
Parents Choice Gold Award!
Deeply respected children's music artist/educator and rhythm master Hap Palmer has given his 1993 album (winner of the American Library Association's "Best of the Best for Children") a considerable update here. Among the new songs on this expertly conceived educational album of "Songs for Learning Through Music and Movement" are "Words We Most Often Use," a prosaic title for a jaunty resource for beginning readers; and "A Tree Fell Down," an engaging guide to prepositions. It asks children to imagine ways to get past a fallen tree ("over, "under," "around"), with sprightly banjo and harmonica accompaniment, and musical sound effects. Other songs teach number recognition, colors, opposites, and grammar. To reach a wider age range, the Palmer has included "basic" versions of some tracks for his youngest listeners. Palmer's clear and comprehensive teacher guide at his website gives song lyrics and identifies activities with variations, objectives, follow-up suggestions and more.

Lynne Heffley ©2018 Parents' Choice – A freelance writer and editor for the arts and non-profit organizations, Lynne is a former staff writer for the Los Angeles Times, where she established the paper's first weekly children's arts and entertainment beat.

Academics' Choice Award
I loved the fact that a free teaching guide accompanies each song. For example, in Can A Cherry Pie Wave Goodbye? the activity instructs you to nod or shake your head for yes and no answers. This incorporates movement, which engages the listener, and also helps children distinguish between fantasy and reality. The follow up questions ask things such as "Which imaginary situation did you find funniest?" Enhancement activities ask listeners to draw a picture that shows what the situation would look like, and even challenges kids to think of other rhymes that describe both imaginary and real situations.

I liked the variety of songs. We played this CD during our morning routine. There are a lot of academic songs included. I really liked the Weekly Rap, which helps children memorize the days of the week. I like that there is a free teaching guide online too!

The songs develop listening skills, color, letter, and number recognition, teach the days of the week, opposites, occupations, body parts, directional prepositions and verbs, sight words, basic motor skills, fantasy vs. reality, and much more.
American Library Association Best of the Best for Children
A gleeful children's chorus joins Hap Palmer in songs of early education -- letters, numbers, phonics, days of the week, colors, animals, and more. Palmer is a singer and producer whose work belongs on everyone's shelves.

Amazon.com
With a grandfatherly voice reminiscent of Burl Ives, Hap Palmer delivers another musical collection of healthful lessons geared toward the preschool set. The title song in this case refers lightheartedly to a question posed to the child participant in a lesson in distinguishing between fantasy and reality. Other songs focus on such topics as the recognition of colors, learning the days of the week, and understanding the concept of opposites. Engaging the child in participatory song and movement, Palmer's tranquil collection strives to teach, entertain, and occupy simultaneously. The liner notes include the lyrics and activity objectives for each song, which is helpful for a parent or preschool teacher when guiding children through the music. -- Bryony Angell

One of the best CDs in our child's collection. Hap is really a marvelous musician and lyricist. His word play is very fun for the kids and very singable for the adults. I recommend him highly for any children under 5 or 6 but especially for those who are looking stretch from the nursery rhymes and first songs style collections. Simple, yet very powerful learning is going on here...my daughter really, really tunes in to this CD...I'm sure yours will too. Stand out for my daughter are the Weekly Rap...she likes it when they go really fast at the end..."Can A Cherry Pie Wave Goodbye?" and the Animal Quizes .. and her latest fav is the Opposites song. My fav is "Pocket Full of Bs"...which I find myself sometimes playing when the kids are not in the car! Egads! -- J. R. Jenkins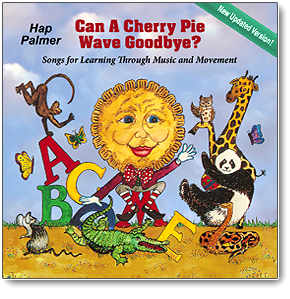 1. Let's All Clap Our Hands Together
2. Put A Little Color On You
3. Can A Cherry Pie Wave Goodbye?
4. Weekly Rap
5. Bean Bag Alphabet Rag
6. Animal Quiz Part One
7. Animal Quiz Part Two
8. Parade Of Colors
9. Pocket Full Of B's
10. Following You
11. Everyone Can Be A Helper
12. Say The Opposite
13. Stepping Out On The Town
14. Put A Little Color On You (Basic)
15. Shifting Shapes
16. A Tree Fell Down
17. Lucky Number March
18. Words We Most Often Use
19. Parade Of Colors (Basic)
20. Say The Opposite (Basic)
21. Bean Bag Alphabet Rag (A-H)
22. The Eagle
23. Can A Cherry Pie Wave Goodbye? (Instrumental)
24. Pocket Full Of B's (Instrumental)
25. Words We Most Often Use (Instrumental)